MEGAUNITY's New Honor!
---
Recently, China Association of Environmental Protection Industry issued the results of Credit Rating Evaluation of the 11th batch of China Environmental Protection Industry Enterprise on Credit China Network and official website. MEGAUNITY and 51 companies such as Beijing Capital Co., Ltd. and Botian Environmental Group were rated as AAA environmental protection enterprise.

The rating of "Credit Rating of Environmental Protection Enterprise" initiated by China Association of Environmental Protection Industry, according to the National "Management Measures of Credit Rating on Environmental Protection Enterprise", through strict review, expert review, on-site inspection and other processes, with the company's value, management and financial capabilities, market ability, performance capability, social responsibility and environmental protection as the factors of investigation, was the rating of the actual performance of the company in complying with environmental laws and regulations and fulfilling environmental protection and social responsibility. The China Association of Environmental Protection Industry has completed the rating of "Credit Rating of Environmental Protection Enterprise" of 11th batches of enterprises. The evaluation results are open to the public, with the supervision of the public and the national environmental, financial and other relevant departments, which has been greatly recognized by the industry and the market.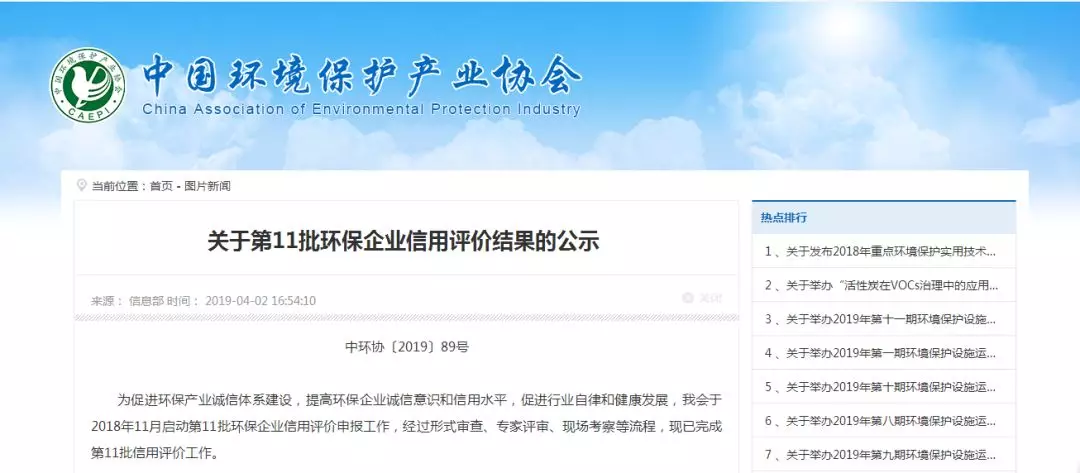 Notification on the official website of China Association of Environmental Protection Industry
Since the establishment of the brand, MEGAUNITY has always attached great importance to the cultivation of credit system. It not only attached great importance to product credit, capital credit, environmental protection reputation, but also highly respects the integrity management and compliance. MEGAUNITY takes "integrity, innovation, success, and win-win" as its core values, and always takes "creating value for customers" as its mission, contributing to the industry's credit environment of "pride in keeping promise, shame on breaking promise" and enhancing its comprehensive competitiveness. MEGAUNITY has won the honorary title of "Liaoning Contract-Respecting and Credit-ReliableEnterprise" and "Liaoning AAAAA Credit Rating" for many years, and been fully recognized and praised by the government and consumers.
Certificate of Liaoning Rating
Quality products and high quality are important conditions for building good credit between enterprises and customers. MEGAUNITY's integrity image is also derived from high technical level and product quality, which is also the consistent concept of MEGAUNITY since its establishment 25 years ago. On the one hand, MEGAUNITY creates a comprehensive quality assurance system with a "craftsmanship spirit", establishes a systematic quality management system, takes science and technology innovation as the guide, and takes customer satisfaction as its purpose, providing customers with excellent products and best services. On the other hand, MEGAUNITY continues to increase investment in research and development, continuously optimize product design and performance through technology research and development, product testing, etc., and improve product quality. MEGAUNITY has been rated as "Liaoning Center of Engineering Technology Research" and "Dalian Center of Engineering Technology Research". The company now has 104 patents, including 18 invention patents. The oil mist purification series and the smoke & dust purification products have passed the European CE certification, and international ATEX certification.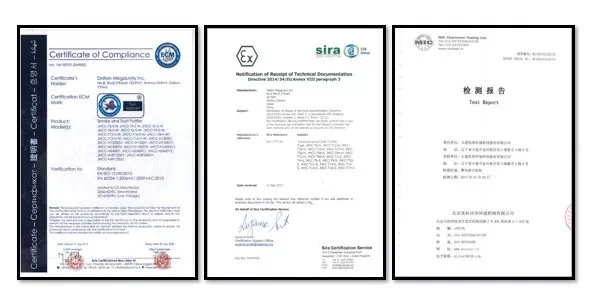 CE Certification, ATEX Explosion-Proof Certification, Product Testing Report
The evaluation of the customer is the "good quality certification" of the company. After 25 years of adherence to credit and quality, MEGAUNITY has won the recognition of the market, and has also won the praise of many customers for its products and teams. MEGAUNITY has been rated as "Excellent Partner" by famous companies such as Wuzhou Taikisha Engineering and Eisenman for many years, "Excellent Supplier" by the SCIVIC Engineering Corporation and MMI Planning & Engineering Insititue, and "Engineering Award" by FAW Volkswagen Project and Changan Ford Project.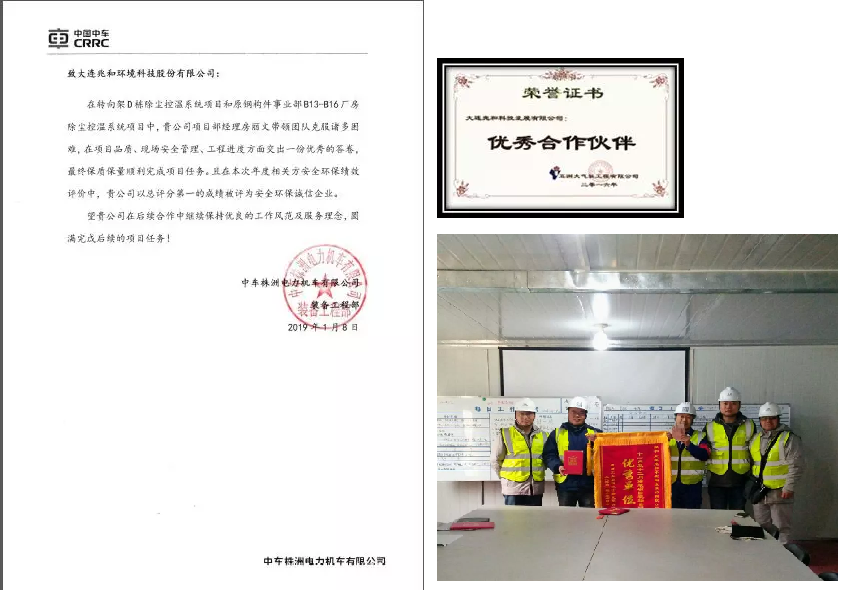 Commendatory Letter by China CRRC
Excellent Partner of Wuzhou Taikisha Engineering
SAIC Zhengzhou project won the "Excellent Unit
In the future, MEGAUNITY will continue to adhere to the development concept of "quality first, the pursuit of excellence", and strict quality control, to enhance the brand image of honesty and trustworthiness, to protect consumers' long-term trust and recognition!

Industrial Air Disposal System Solutions
Tel:400-860-5288
E-mail: marketing@megaunity.com
Adresse:
No.300, Dongxin Road, Wuzhong District, Suzhou, Jiangsu, China
No.8, Shuzi 3rd Road, DD Port, Dalian Jinpu New Area, Liaoning, China
---