Megaunity:Working with one heart to respond to outbreak
---
We share one heart and work together. The epidemic outbreak made every Chinese people take action to do what they can to fight the virus. At a critical juncture, the epidemic is an order, and prevention and control is a responsibility. Megaunity Environmental deployed in advance during the Spring Festival and actively protected the health of employees. At the same time, employees and the public were urged to make donations with love and actively respond to the government's call for donating medical disinfection equipment, and rapidly develop new anti-virus products for public space ventilation and air-conditioning systems, thus demonstrating social responsibility with practical actions.
Work together to fight the epidemic, donate love to warm people's hearts
Since February 13, 2020, Megaunity Environmental has launched a charitable donation project, and established the "Chinese-Europeans, Fighting for Love" charity fundraising platform with the help of the China-Europe Alumni Association, calling on Zhaohe partners, family members, and social lovers around them to participate together. The project stopped accepting donations at 24:00 on February 29. During the period, totally 226 people gave their love under the leadership of Zhaohe and raised a total of 155,456 yuan. At the same time, senior executives of Megaunity Environmental, including Yao Weiguo, the Chairman of Megaunity Environmental, also donated tens of thousands of yuan to Wuhan through Liaoning Province Chamber of Commerce, Hubei Province Yangtze River Ecological Environmental Protection Foundation and other public welfare channels. All the donations were used to provide epidemic-resistant medical supplies to frontline medical staff, receiving sincere thanks from frontline medical staff.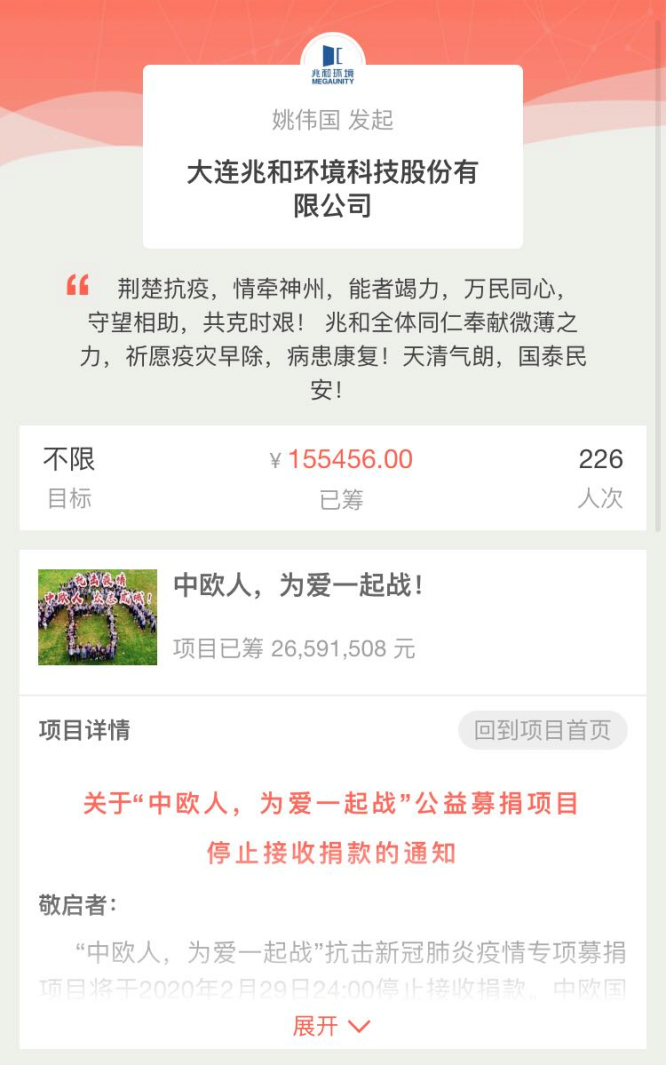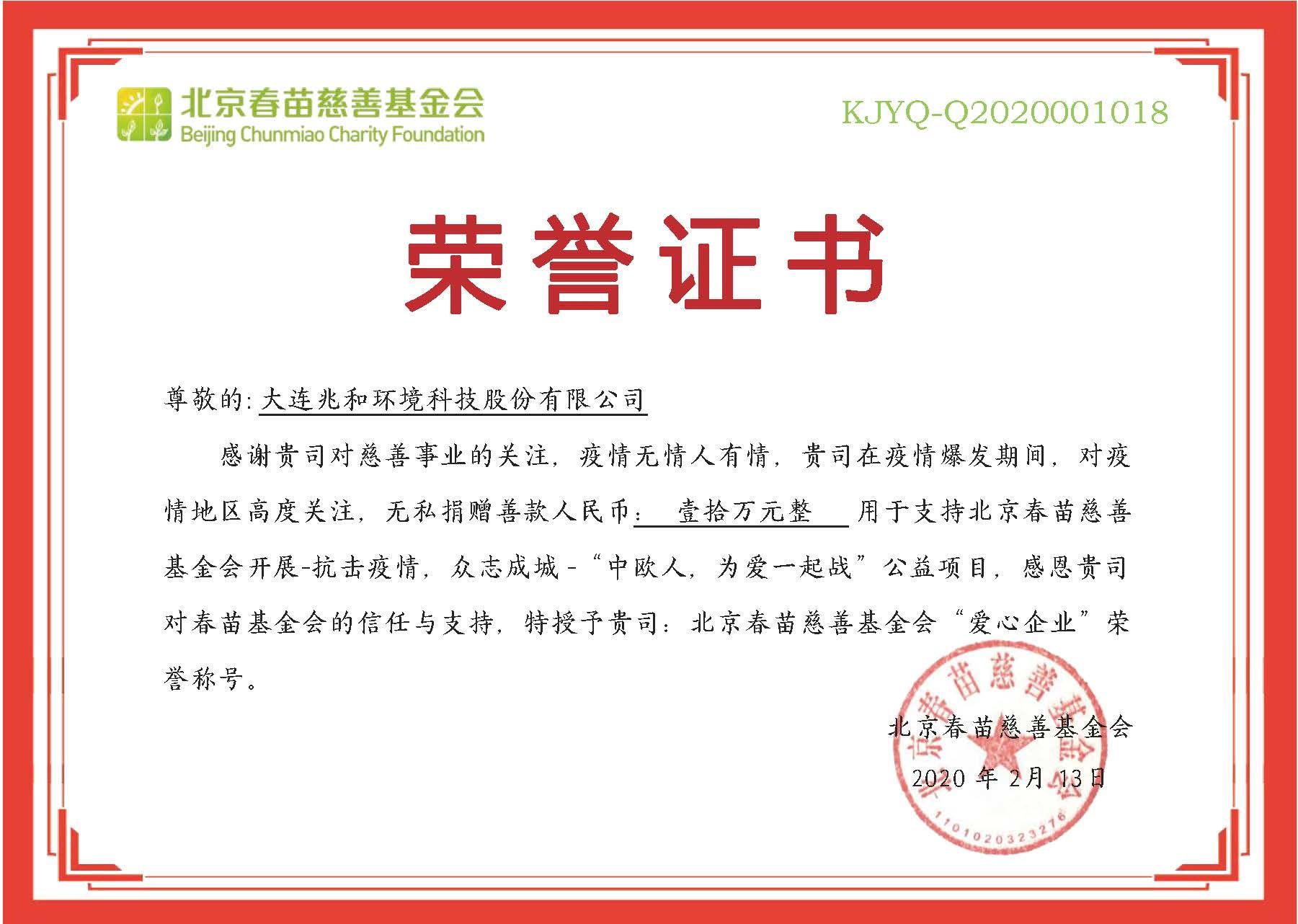 Take activity to assist impoverished students, pass love to repay the country
Since 2002, Megaunity Environmental has funded education in various ways to help poor but exceptionally good students. Now many students who have been helped by Megaunity have graduated with excellent grades and moved to work. Among them, two students have become outstanding medical staff. They are Fan Weiwang, a student of Dalian Development Zone No. 8 High School Grade Two, and Du Shiye, a student of Development Zone No. 1 High School Grade three, who were subsidized by Zhaohe in 2009. Fan Weiwang and Du Shiye submitted their applications for participating in the Dalian Medical Assistance Team to Wuhan Thunder God Mountain Hospital. Fan Weiwang, born in 1993, has become the youngest frontline doctor in the medical team to support the Thunder God Mountain Hospital. Megaunity has influenced and led a new generation of young people with the great love spirit and its own actions to fulfill their social responsibilities.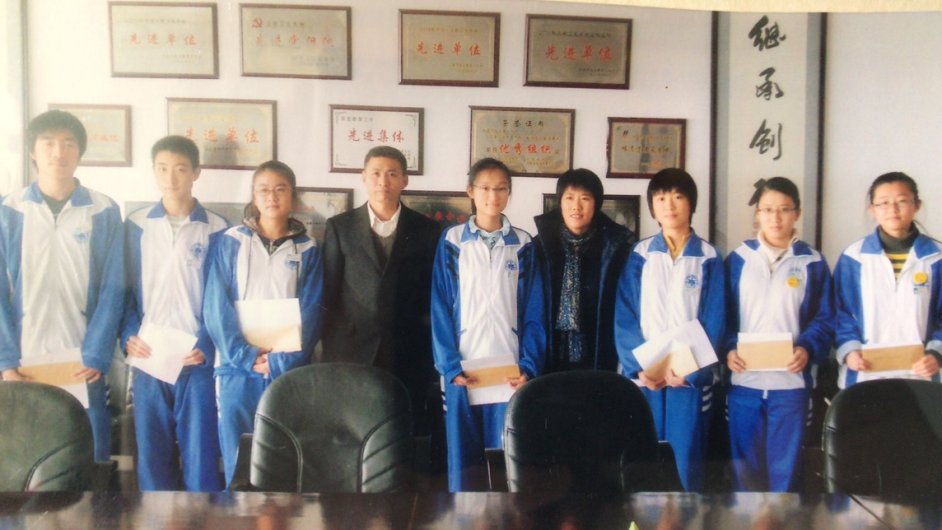 In 2009, Megaunity Environmental granted student subsidies to senior high school students in Dalian Development Zone No. 1 High School
Second from left: Du Shiye – Graduated as a undergraduate from Jilin University School of Medicine, graduated as a master from Shanghai Second Military Medical University. Now he is a military doctor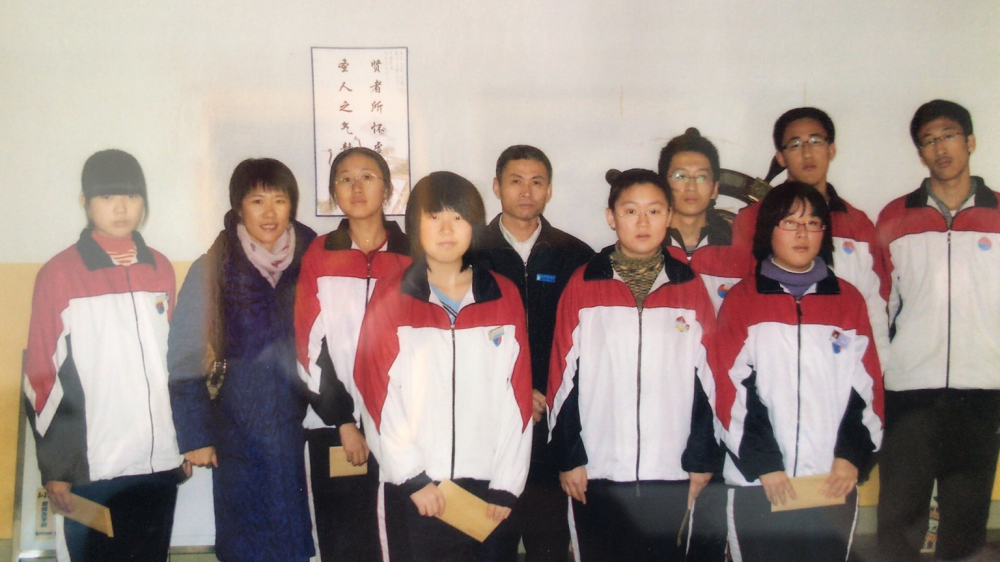 In 2009, Megaunity Environmental granted student subsidies to students from Dalian Development Zone No. 8 High School Grade Two.
Third from the right in the back row: Fan Weiwang - Graduated as licenciatura from Dalian Medical University, and a doctor of Dalian Central Hospital now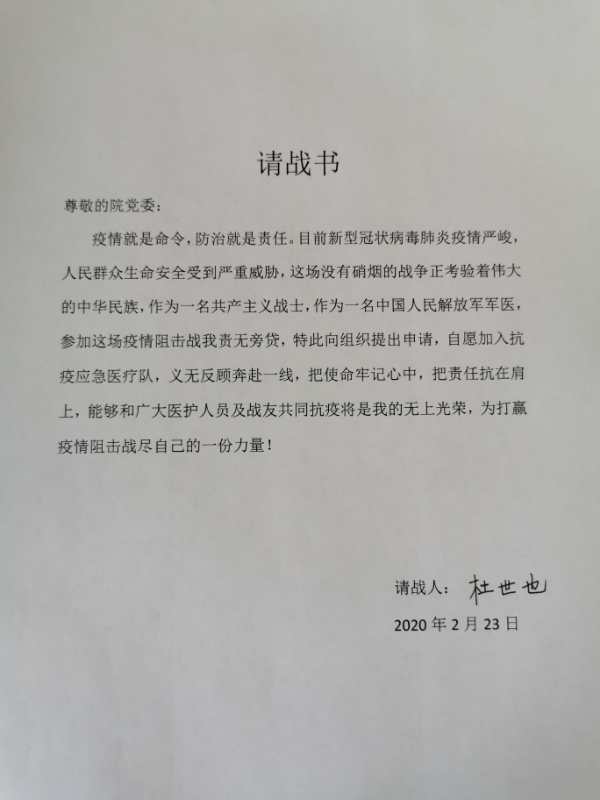 Du Shiye's written request for assignment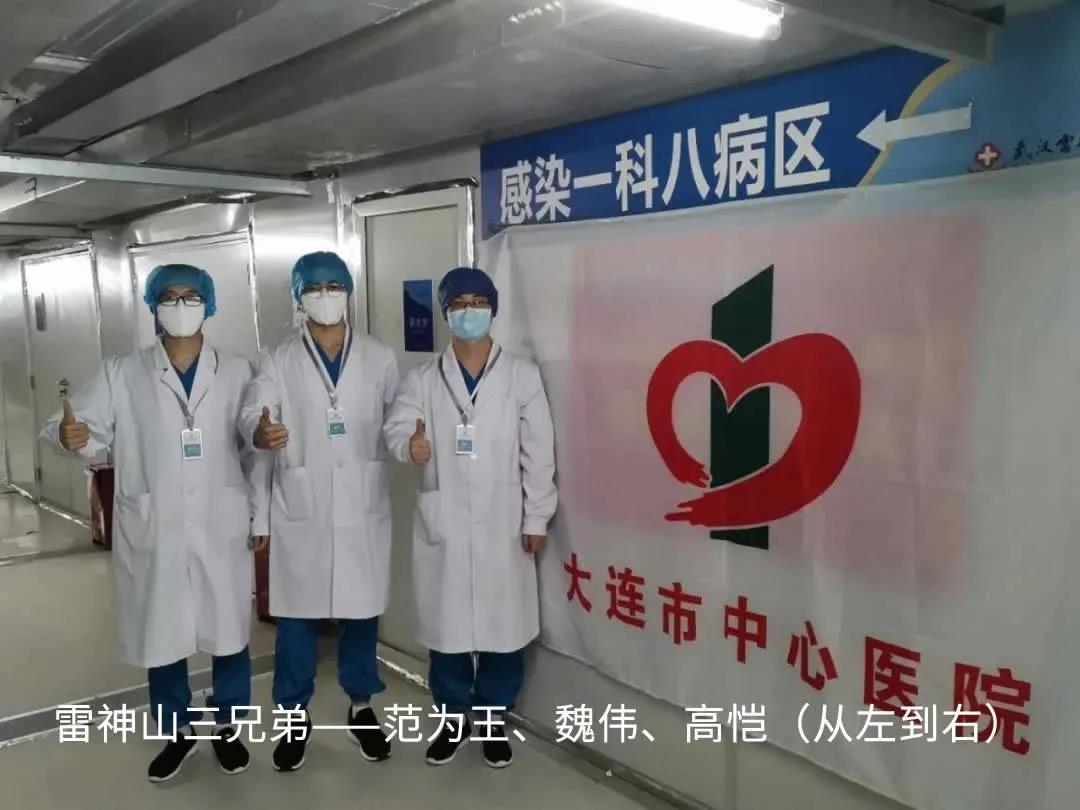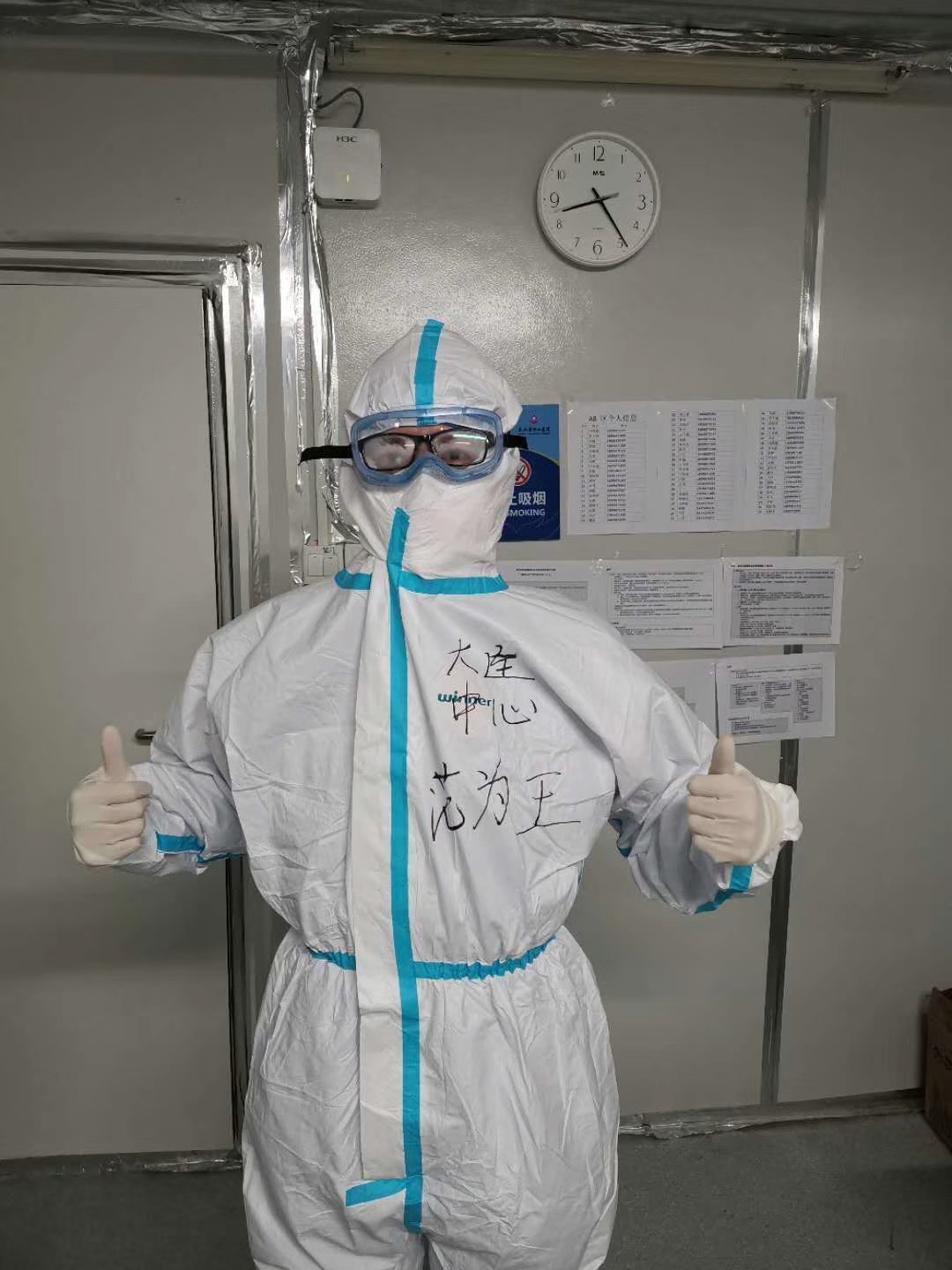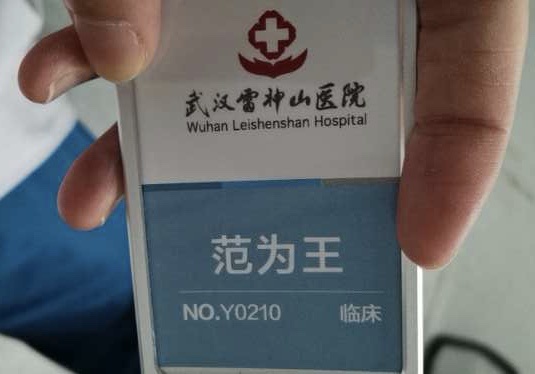 Quick response tolaunchnew products, efficient research and developmenttoshow strength
At the beginning of February, Yao Heguo, the Chairman of Megaunity Environmental, learned that there was a demand for anti-bacteria and virus-killing central air-conditioning ventilation system in the market. He immediately organized the company's technical team and requested the CTO to organize R & D design engineers and process engineers to set up a project. The project aimed at the problem of space aerosol transmission risks, responded quickly to market demand, and developed a kind of central air-conditioning virus-killing product. Through high-voltage electrostatic primary anti-virus, high-efficiency virus aerosol capture and chemical anti-virus technology solutions, the virus aerosol treatment efficiency of the product can reach more than 99%. The product has been positively affirmed and promoted by the China Environmental Protection Industry Association, the Liaoning Provincial Department of Science and Technology and the National Ministry of Science and Technology. Furthermore, Megaunity Environmental has been included in the list of key epidemic prevention product companies of the Ministry of Industry and Information Technology.
Respond tothecall to donate equipment, assist in fighting against the epidemic
To help front-line medical institutions fight against the epidemic and control virus transmission, Megaunity Environmental donated a set of central suction system exhaust disinfection equipment to the newly-built epidemic prevention designated hospital of Jilin Province - Jilin Province Tuberculosis Hospital. After knowing the needs of the hospital on February 7, under the personal leadership of Zhaohe's senior leaders, the relevant technical personnel and engineering staff began to carry out product development and actual site conditions survey on the next day, and the product design was completed on the 11th. Megaunity completed the production, transportation and installation of the equipment, and officially put the equipment into use on February 15. It was fully benefited from the leadership team to coordinate various tasks and related personnel to actively cooperate with the work for Megaunity to be able to successfully complete this donation project within just 8 days, which demonstrates the team strength and action speed of Megaunity!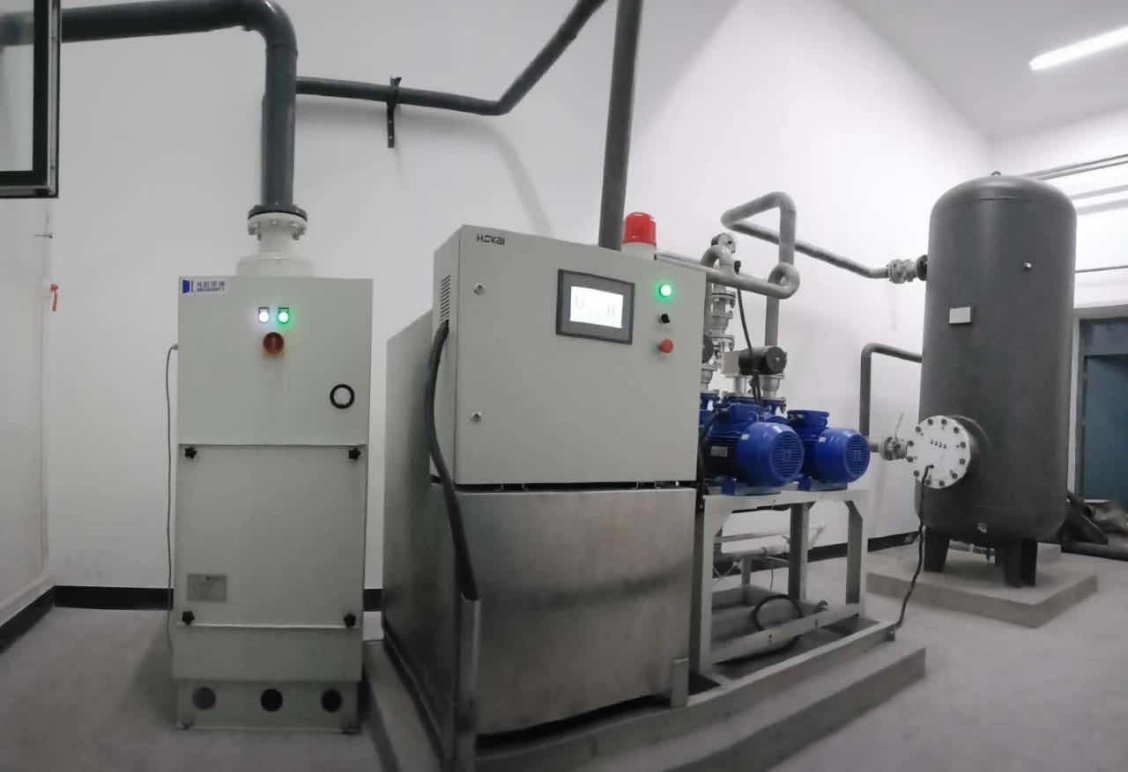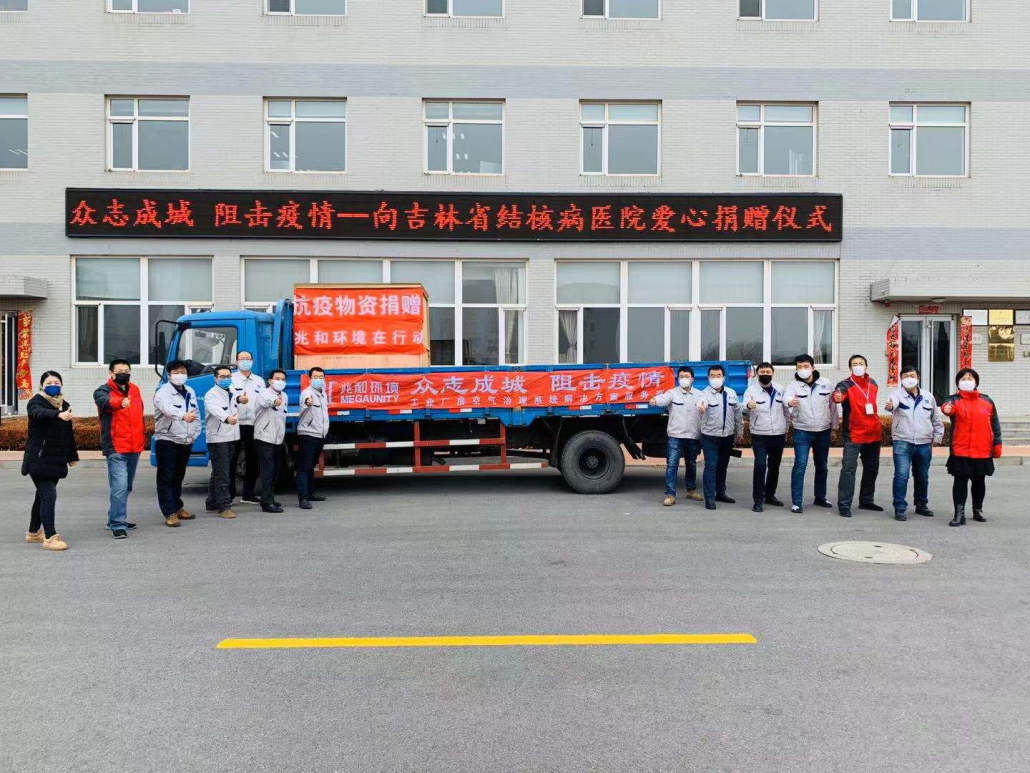 There is no difficulty that cannot be overcome if we are of one heart and one mind. The epidemic outbreak allowed Megaunity people to explore their potential, to guard with thin strength, and to make every effort to achieve the final victory. This is the time when Megaunity people practice their responsibility for the social. Let's work together to dispel the haze and fear.

Industrial Air Disposal System Solutions
Tel:400-860-5288
E-mail: marketing@megaunity.com
Adresse:
No.300, Dongxin Road, Wuzhong District, Suzhou, Jiangsu, China
No.8, Shuzi 3rd Road, DD Port, Dalian Jinpu New Area, Liaoning, China
---