Megaunity won the "Second Prize of Dalian Invention Patent"
---
Recently, the invention patent "an oil mist purifier" of Dalian Megaunity Technology Co., Ltd. won the Second Prize of Dalian Invention Patent. Previously, its "Industrial Plant Oil Mist High-efficiency Purification Technology and Equipment Development" project won the second prize of the "2019 Environmental Technology Progress Award", and its "15000m³/h Die Casting Flue Gas Purification System" project passed the appraisal of scientific and technological achievements, marking Megaunity's oil mist purification technology and products have reached the domestic leading and international advanced level.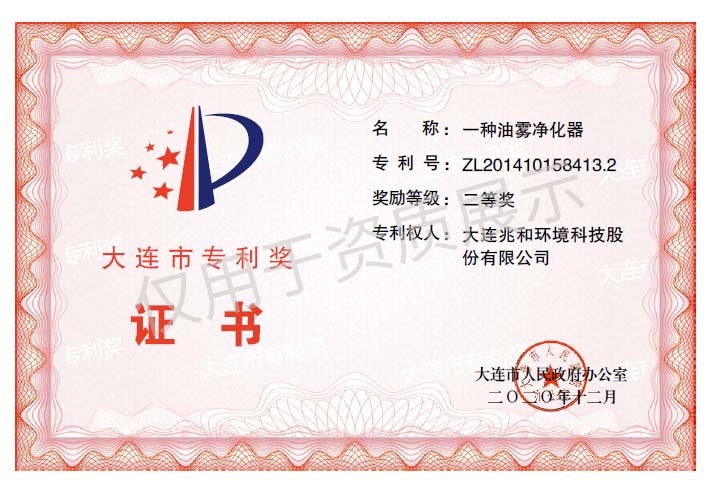 Dalian Patent Second Prize Certificate
Megaunity has developed different solutions for different industrial plant oil mist conditions.
Aiming at the working conditions of pure oil-based cutting fluids, through the research of convection field and electric field coupling numerical simulation technology, particle tracking technology, space charge simulation technology and surface insulation technology, a high-efficiency oil mist purifier suitable for this working condition has been developed.

Aiming at the working conditions of high oil mist concentration and prone to corona occlusion, the industry problem in the field of electrostatic capture is solved by studying pre-ionization technology.

Aiming at the high viscosity of oil mist particles, poor fluidity, and difficulty to remove on the electrode plate, the self-cleaning oil mist purification equipment developed through convection field simulation technology and high-pressure jet washing technology can extend the manual maintenance time to a large extent, thus reducing labor maintenance costs.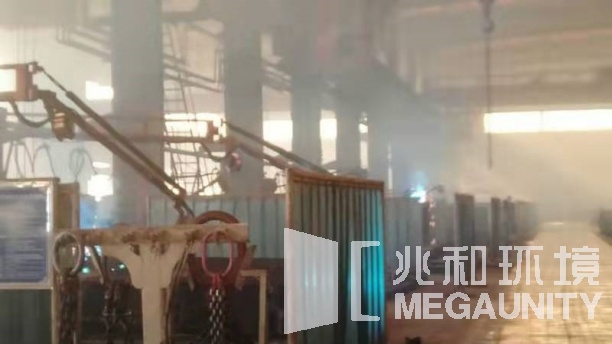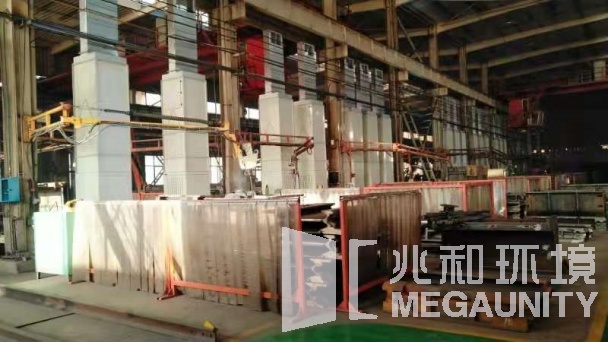 Comparison figure before and after using the equipment
By digesting and assimilating the imported technology, Megaunity has made technical improvements and re-innovations for domestic oil mist and equipment working conditions. It has been authorized for 21 patents with independent intellectual property rights, and has successfully applied them in the following fields:
1) Machining industry: processing oil mist generated by machine tools, cleaning machines and other equipment;
2) Thermal processing industry: processing oil mist and oily fume generated during hot forging, casting and quenching;
3) Die-casting industry: processing oil mist and fume generated during the aluminum alloy die-casting process;
4) Public spaces: fresh air purification in public spaces such as subways, tunnels, and buildings.

In 2020, the "15000m³/h die-casting flue gas purification system" developed by Megaunity has been successfully applied to the flue gas purification of multiple die-casting machines with different tonnages. With the advantages of high capture efficiency, high purification efficiency and low operating cost, the self-cleaning oil mist purifier developed by Megaunity can extend the use time of equipment and reduce the maintenance cost. The Chinese Mechanical Engineering Society has organized relevant experts to conduct technical inquiries, on-site inspections and discussions on the project. The Appraisal Committee believes that the project achievements have independent intellectual property rights, and the overall technology has reached the domestic leading level, and among them, the patented technologies such as electrostatic cores have reached the international advanced level.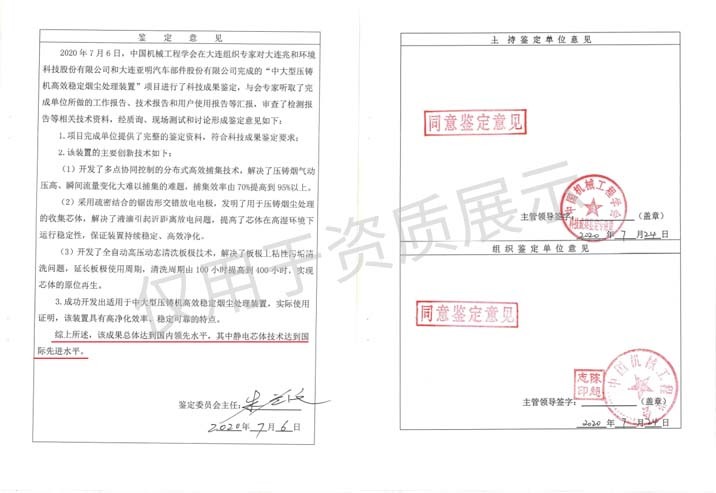 Megaunity Die-casting Flue Gas Purification System Project Passed the Appraisal of Scientific and Technological Achievements
The oil mist purification products developed by Megaunity treat about 12.6 billion cubic meters of polluted air for customers every year, and reduce the emission of polluted particles by about 300 tons every year. This technology can successfully improve the working environment of employees in the workshop, prevent the inhalation of oil mist and dust particles, and effectively eliminate occupational hazards; at the same time, the purified air can be discharged internally to reduce user energy consumption.
A long journey can be covered only by taking one step at a time. After 26 years of efforts, Megaunity has become a leader in the environmental protection industry. Megaunity empowers high-quality development with innovation, and develops new areas with R&D. The self-developed oil mist treatment technology has the advantages of high purification efficiency, stable and reliable operation, and low maintenance cost. It can provide high-quality industrial plant air treatment system solutions for domestic and foreign customers based on different working conditions and oil mist characteristics.

Industrial Air Disposal System Solutions
Tel:400-860-5288
E-mail: marketing@megaunity.com
Adresse:
No.300, Dongxin Road, Wuzhong District, Suzhou, Jiangsu, China
No.8, Shuzi 3rd Road, DD Port, Dalian Jinpu New Area, Liaoning, China
---